All Star Selection Process - See
Full Story
Registration for the 2018 Little League Season is coming soon!
Check out our
registration page
for more info!
If you have issues with registration please see our FAQ page.
Lincroft Little League Baseball and softball in Lincroft, NJ.

We welcome kids between the ages of 5 and 16 who meet the Lincroft Little League Boundary requirements.
Amazon will make a donation to Lincroft Little League ever time you shop!
Click on the image below. You can also add us to your charity list under your Amazon preferences.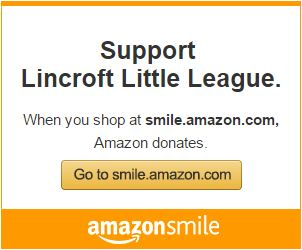 Click Here to sponsor the Lincroft Little League, or make a tax-deductible donation through PayPal!